WATCHERS also extra terrestrial genetic engineers of the EL inside the HOLLOW MOON Michael, Gabriel, Uriel and Raphael bound AZAZ-EL in DUDA-EL to accept sins of man according to JEWS.

TODAY on Earth according to Chapter X 6 Books of Enoch - "Again said the LORD to Rapha-EL BIND AZAZEL Hand & Foot cast him into darkness and opening the desert which is in DUDA-EL cast him in there"
The questions I have for YOU are WHERE is DUDA-EL & if AZAZEL = BAAL= SATURN = SATAN = LUCIFER =BAFOMET = ... because in my writings BAAL is really BA-EL brother god, WTF? who is this brother of god EL? And Aaron shall cast lots upon the two goats: one lot for the LORD, and the other lot for Azazel. — Leviticus 16:8 Once a year, on Yom Kippur, the Cohen Gadol sacrificed a bull as a sin offering to atone for sins he may have committed unintentionally throughout the year. Subsequently he took two goats and presented them at the door of the tabernacle. Two goats were chosen by lot: one to be "for YHWH", which was offered as a blood sacrifice, and the other to be the scapegoat to be sent away into the wilderness. The blood of the slain goat was taken into the Holy of Holies behind the sacred veil and sprinkled on the mercy seat, the lid of the ark of the covenant. Later in the ceremonies of the day, the High Priest confessed the intentional sins of the Israelites to God placing them figuratively on the head of the other goat, the Azazel scapegoat, who would symbolically "take them away".

WHERE is the DUDA-EL?
is the DUDA-EL the Napta Playa that was discovered in the farthest territories of EGYPT?

The Book of TOBIT states - then the Angel Rapa-EL took the devil and bound him in the desert of upper EGYPT.
Believing in the manifestation of positive energy by not thinking of the negative is impossible and a LIE! Natural law of nature is POLARITY because the WORD of GOD is RESONANCE embedded within YOU and YOU are CONNECTED to the SUN and the SUN to the Galaxy the Galaxy to the UNIVERSE all a thought created by the WORD of GOD and YOU live within it! YES the MASTER says the pendulum of negative thoughts starts very slowly but increasingly swings more violent and your emotional stability comes into question and you get uncomfortable because no one has told you about the 3rd dimension of physicality, the 4th of mentality and the 5th of spirituality. EL means GOD but EL-OHIM means gods. Angels Books of Enoch who names end in EL, Micha-EL, Gabri-EL, Rapha-EL, Uri-EL (seraphim angels of GOD) or Fallen Angels Sama-EL, Baraki-EL, Ezeki-EL, Azaz-EL all met at Mt Hermon in SYRIA are in DUDA-EL today but BAAL was given title EL of the CANAANITES. The genetic modification of man with GOLD known by the advanced genetic engineers to clean ATMOSPHERE that King Nimrod Nemrut SHIVA brother to Sri Rama Krisna and their VIMANA in the VOLCANOE that produced NUCLEAR REACTION wiping out humanity once already. Get a CLUE, YOU are mentally locked in PENANCE of the 3rd dimension of physical reality but the ETHER of darkness to be brought into the LIGHT is the skill set of the RESONANCE of the WORD of GOD which is ELECTRO MAGNETISM or POLARITY which lifted 200 ton blocks that cant be lifted with anything you have today. ELECTRO MAGNETISM and HYDROGEN REACTORS are all over the planet!
I was doing some research and I found an interesting correlation that has led me to ask the question WHO is AZAZY-EL in both the Books of ENOCH and the Emerald Tablets of THOTH? What does the EL on the end and at the beginning of these names?
The HEBREW Names of GOD
Angels of GOD
Micha-EL
Gabri-EL
Auri-EL
Rapha-EL
These names also associate to the four stars Regulus, Aldebaran, Formalhaut, Antares.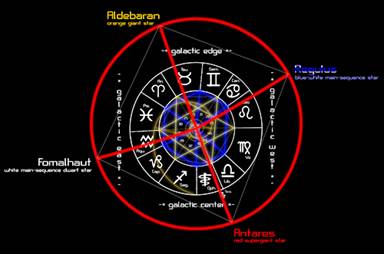 The Grigori - Angelic Watchers
At the head of the angelogical system described in rabbinic literature are four archangels, corresponding to the four divisions of the army of Israel as described in Numbers 2: "As the Holy One blessed be He created four winds (directions) and four banners (for Israel's army), so also did He make four angels to surround His Throne — Michael, Gabriel, Uriel and Raphael. Michael is on its right, corresponding to the tribe of Reuben; Uriel on its left, corresponding to the tribe of Dan, which was located in the north; Gabriel in front, corresponding to the tribe of Judah as well as Moses and Aaron who were in the east; and Raphael in the rare, corresponding to the tribe of Epharim which was in the west."
[1]
Books of ENOCH
Summary: Angels Who Taught Humans from 1 Enoch. Some translations vary so two tables are presented below:
Translation 1
Translation 2
Teaching
Azazel
Azazyel
Swords Knives Shields Breastplates Metals & Metalwork
Bracelets-Cosmetics Precious Stones Colouring and
Tinctures
Semjaza
Amazarak
Enchantments & Root-cutting
Armaros
Armers
Enchantments & Sorcery
Baraqijal
Barkayal
Astrology
Kokabel
Akibeel
Constellations
Ezeqeel
Clouds
Araqiel
Signs of the Earth
Shamsiel
Tamiel
Signs of the Sun
Sariel
Asaradel
Course of the Moon
Transliteration
Pronunciation


double click for audio

Meaning or
Translation

Scripture Reference

'EL
'Æle
GOD as Almighty
& Eternal
Genesis 7:1; 14:18;
17:1

...

238 x in OT

'EL ELYON
'Æle Æle-yowne'
The Most High God
Genesis 14:19; Psalm 9:2; Daniel 7:18, 22, 25
'EL 'AÔREÔK
Æle Aw-rake'
GOD LONGSUFFERING


slow to anger

Deuteronomy 32:4
''EL 'AMAN
'Æle Aw-man'
GOD OF TRUTH
31:13; 35:7
EL BETHEL
Æle Bayth-ale'
GOD OF THE HOUSE
THE HOUSE OF THE GOD
Genesis 31:13; 35:7
'EL CHANNUN
Æle Khah-noon'
THE GRACIOUS GOD

sense of pity

Deuteronomy 34:6
'EL CHAY
Æle Khah-ee'
THE LIVING GOD
Joshua 3:10
'EL CHAYIL
Æle Khay' il
GOD MY POWER


resource, ability

II Samuel 22:33
'EL CHUWL
Æle Khool
THE GOD THAT FORMED THEE
Deuteronomy 32:18
Proverbs 6:10
'EL DE'OT
Æle Day-awt'
GOD OF KNOWLEDGE
II Samuel 22:31
''EL DEREK TÂMIYM
Æle Deh'-rek Taw-meem'
GOD WHOSE WAY
IS PERFECT
II Samuel 22:31
EL 'ECHAD
Æle Ekh-awd'
THE ONE GOD
Genesis 33:20
'EL 'ELOE
YISRAEL
Haw-yaw' A-sher Haw-yaw?
GOD OF TRUTH


faithful/ steady

Deuteronomy32:4
'EL 'ELOE
YISRAEL


Æle Æle-o-hay' Yis-raw-ale'


GOD OF ISRAEL


trustworthy

Genesis 33:20
'EL 'EMET
Æle Eh'-meth
GOD OF TRUTH


faithful/steady

Isaiah 10:21
Jeremiah 32:18
'EL 'EMUNAH
Æle Eh-oo-naw'
GOD OF TRUTH


trustworthy

Isaiah 10:21
Jeremiah 32:18
Psalm 3
'EL GIBBOR
Æle Ghib-bôre
MIGHTY GOD
Isaiah 10:21
Jeremiah 32:18
'EL HAGGADOL
Æle Ha-Gaw-dole
GREAT GOD
Jeremiah 32:18
'EL HAKKAVOD
Æle Hak-kah-vode'
THE GOD OF GLORY


sense is to uphold

Psalm 29:3
'EL HAKKADOSH
Æle Haw-kaw-doshe'
THE HOLY GOD
Isaiah 5:16
'EL HANNE'EMAN
'Æle Han-Aw-man'
FAITHFUL GOD


sense is to uphold

Deuteronomy 7:9
'EL HANNORA
Æle Hannora
THE AWESOME GOD
Nehemiah 9:32
'EL HASHAMAYIM
ÆleHaShamayim
THE GOD OF THE HEAVENS
Psalm 136:26
IMMANU'EL
Im-maw-noo-ale'
GOD WITH US
Isaiah 7:14
'EL KANNO
Æle Kan-no'
JEALOUS GOD
Exodus 20:5; 34:14; Numbers 5:14, 30; Deuteronomy 4:24; 5:9; 6:15; Joshua 24:19;
1 Kings 19:10, 14; Ezekiel 39:25; Joel 2:18; Nahum 1:2; Zechariah 1:14; 8:2
'EL KADOWSH
Æle Kaw-doshe'
GOD WHO IS HOLY

defence

Isaiah 5:16
'EL NATHAN
Æle Naw-than'
GOD WHO AVENGES ME
II Samuel 22:48
'EL NEGAMAH
Æle Nek-gaw-maw'
GOD
21:33>
'EL MAUZ
Æle 'Maw-ooz'
GOD MY STRENGTH


defence

II Samuel 22:33
'EL NASA
Æle Naw-saw'
GOD WHO FORGAVE
Psalm 99:8
'EL OLAM
Æle O-lawm
EVERLASTING GOD
Genesis 21:33
'EL RACHUM
Æle Rakh-oom'
GOD OF MERCY
sense is to fondle
Psalm 99:8
'EL ROI
Æle Ro'-ee
GOD WHO SEES (ME)
Genesis. 16:13
'EL SELA'
Æle Seh'-leh
GOD MY ROCK
Psalm 42:9
'EL SHADDAI
Æle Shad-dah'-ee
Bountiful supplier
full breasted One
Genesis 17:1-1;
35:II Chronicles 6:18
'EL SHÂMA
Æle Shaw-mah''
GOD WHO HEARS ME
Psalm 17:6
'EL SHÂMAR BERÎYTH
Æle Shaw-mar' Ber-eeth'
GOD WHO KEEPS COVENANT
Deuteronomy 7:9
'EL Ha SHAMAYIM
Æle Ha Shae-mah'-yim
GOD OF HEAVEN
Psalm 136:26
'EL SIMCHÂH GÎYL
Æle Sim-khaw'Gheel
GOD MY EXCEEDING JOY
Psalm 42:8
'EL TSADDIK
Æle Tsad-deek'
THE RIGHTEOUS GOD
Isaiah 45:21
'EL YESHUAH
Æle Yesh-oo-ah
GOD MY SALVATION
Isaiah 12:2
Psalm 42:11
'EL YESHURUN
'Æle Yesh-oo'roon'
THE GOD OF JESHURUN
Deuteronomy 33:15
33:5 &26 Isaiah 44:2
Thus saith the LORD, Let not the wise man glory in his wisdom, neither let the mighty man glory in his might, let not the rich man glory in his riches: 24 But let him that glorieth glory in this, that he understandeth and knoweth me, that I am the LORD which exercise lovingkindness, judgment, and righteousness, in the earth: for in these things I delight, saith the LORD....Jeremiah 9:23-24
EVIDENCE
For the TRIBES of JACOB to include LEVI, JUDAH, GAD, MANNASEH, BENJAMIN, EPHRAIM or 6 of the 12 in North West & East AFRICA.
In doing research we found this ANCIENT MAP of AFRICA showing where BAB-EL MAND-EL is located.
EAST AFRICA - BIBLE Kings 9:28
Most THEOLOGIANS will tell you that the Tower of BAB-EL was built on the plains of Shinnar, where NIMROD NEMRUT SHIVA was said to have built the cities BAB-EL, ERECH or IRAQ, ACCAD, CALNEH in the land of SHINAR - Genesis 10:10.
BAB-EL MAND-EL is a strait between ARABIA & AFRICA and today known as the STRAITS of HORMUZ!.
The WORD BAB-EL means "Gate of GOD".
The WORD MAND-EL means "MAN" and/or "SHOCK".
So the name BAB-EL MAND-EL gives us, NOT in Babylon but in AFRICA, the name of a location "Gate of GOD" and describes the event as "The SHOCK of MAN". The ARABS call BAB-EL MAND-EL "Bab Al-Mandab" meaning "Door of Mourning" and is also known as "Gate of Grief", "Gate of Tears", "Bridge of Tears". The names of the location are representative of the numbers who were DROWNED by an EARTHQUAKE at the STRAITS of HORMUZ also known as BAB-EL MAND-EL between INDIA & AFRICA.
Book of Jasher 9:38
"And as the tower [BAB-EL] which the sons of men built, the Earth opened it's mouth and swallowed up one third part thereof"
Book of Jasher 9:39
"and many of the sons of men died in that tower...a people without number".
Another part goes on to tell us that one third was destroyed by WIND and the other third by FIRE!
Furthermore those who died in the first third were drowned by an earthquake of which the waters were replaced by what we know today to be the INDIAN OCEAN.